With the surge of working from home (WFH) and just hanging around the house this year, I've found that a lot of my clients and friends have been re-evaluating the half of the wardrobe usually reserved for old college t-shirts and the one pair of sweatpants usually only seen on weekends.
I'm guilty of it too – I invest in the clothes that I plan on wearing to events or work. Before this year, the outfits usually reserved for lazy Sunday evenings or running out to grab just one thing at the grocery store were not priorities for investing. While WFH, comfort is the number one priority, so I've been finding new, cozy, WFH-approved clothes for both my clients and myself.
Whether you're full-time WFH, doing a hybrid situation, or just need to be extra comfy in your downtime – here are five essentials to shop for and two different price points.
Tip: The Splurges make amazing holiday gifts for friends and family. Because, also, what else are we doing for the holidays this year??
Extra Fancy, Zoom-Ready Pajamas
Splurge: Printfresh Sleep Sets
If staying in pajamas all the time = you living your best life, I'm all for it. There are so many cute styles and matching sets available right now. Some of my favorites are produced right here in Philly by Printfresh. The material is nice and structured, so the tops will look like dress shirts on all your calls. They have some of the most unique prints I've seen – this Eyes of the World print is amazing, but definitely browse for even more. Pajamas are available in this long set, a short sleeve set, and nightshirts – and they even have men's styles!
$132, printfresh.com
Deal: Ekouaer Womens Pajama Set
This option is definitely a little more casual in terms of both the crew neck and the available prints, but you can still get away with this looking like a sweatshirt instead of immediately looking like pajamas. The matching pants are nice and flattering joggers, which also gives this set points for feeling more like "real" clothes.
$39.99, amazon.com
The Only Leggings You Need
Splurge: Lululemon Align Joggers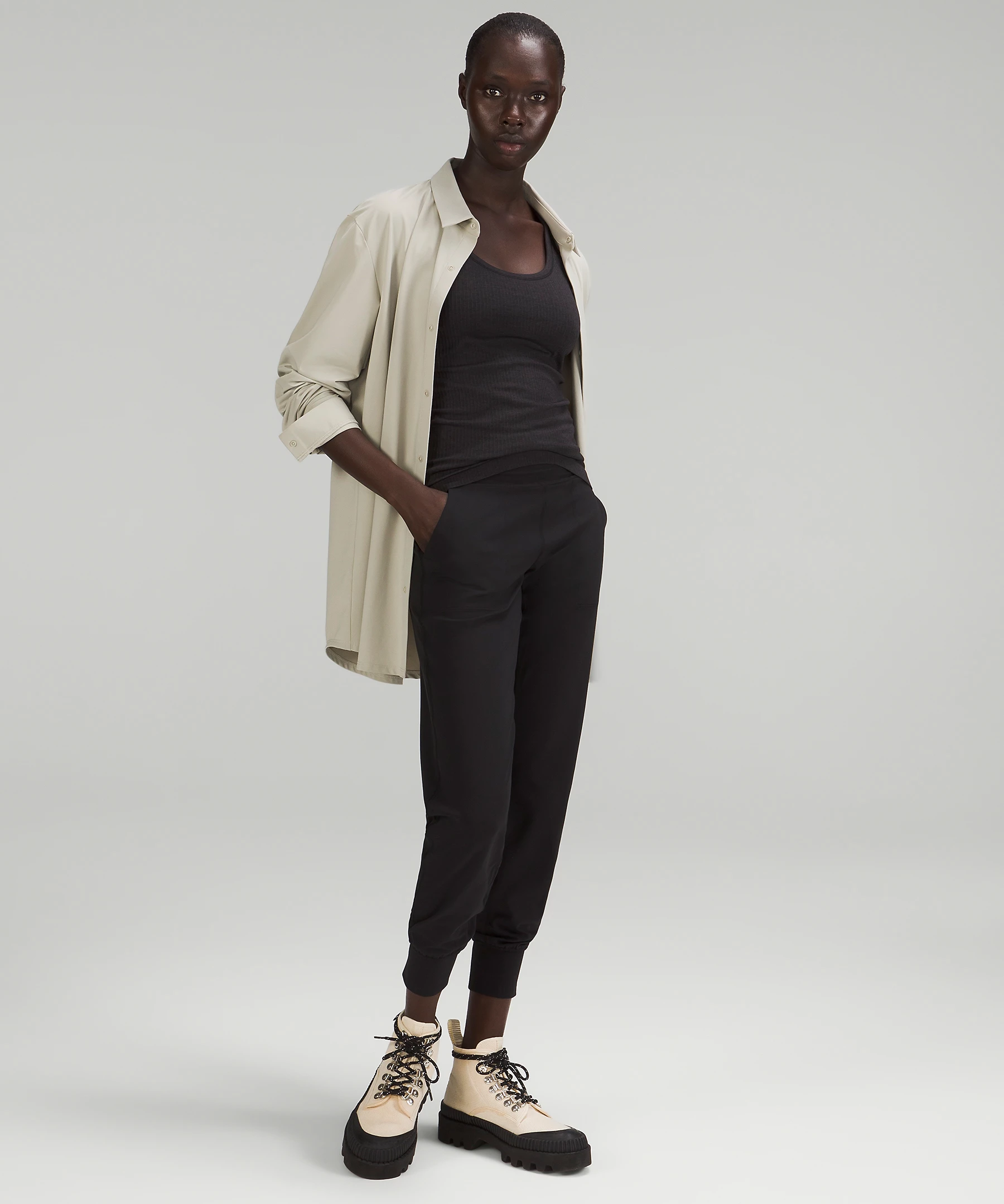 Jokes on you guys, I've been wearing these since before working from home was cool. I have them in two colors, because one pair isn't enough (sometimes two isn't enough). Once you click on the link, you'll recognize them from the video I posted about how to dress up your yoga pants. They are high waisted, and they don't roll down (can I get an amen??)! The pockets with the jogger style make them cute for wearing out of the house as an alternative to your regular plain leggings. I wouldn't recommend these for high intensity workouts, because you will notice pilling at the inner thigh, but they are great for lounging and low intensity exercise.
$98, lululemon.com
Deal: Girlfriend Collective Compressive High-rise Legging
These leggings are sustainable and inclusive, in addition to being super comfy! With almost 9,000 5 star reviews, these leggings live up to their hype. They have the perfect balance of stretch and compression, so they're perfect for working out or working from home. Also, the color selection for these leggings is SO good!
$68, girlfriend.com
Oversized Cozy Sweater
Splurge: Rag & Bone Fleece Half Zipper Sweatshirt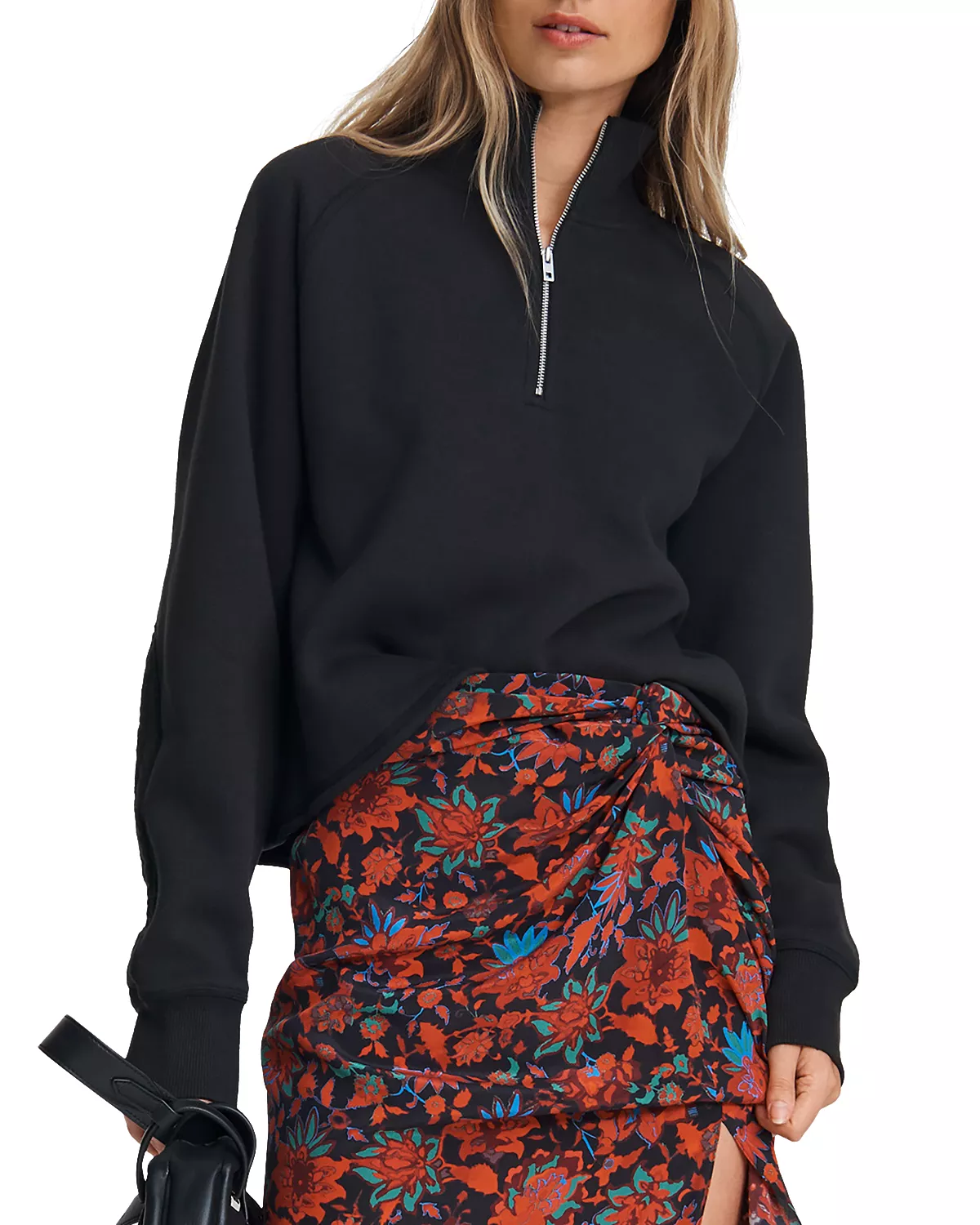 A half zip sweatshirt gives you the warmth on your neck without the restriction that you get from a turtleneck. It also looks a little bit more polished than a hoodie, while still remaining perfect for throwing on over a sports bra (or no bra) for a Zoom call. This sweatshirt from Rag & Bone, also has padded/reinforced elbows similar to a professor style blazer.
$250, bloomingdales.com
Deal: Uniqlo Souffle Yarn Hooded Tunic
Everyone needs a flattering sweater to wear with your favorite leggings or yoga pants, that still makes you feel like you've made an effort to get ready. This stylish sweater has the shape and coziness of a hoodie, but a more elevated looking texture and a tunic length. The acrylic-wool blend is nice and warm without feeling itchy. Grab this in a nice neutral or a muted mauve-y pink for a subtle color to help mix things up.
$39.90, uniqlo.com
The Wear Over Everything Long Cardigan
Splurge: Barefoot Dreams CozyChic Lite Circle Cardigan
Oh my goodness, I LOVE this cardigan. I live in it at home, because it's so soft and cozy. It's the perfect cardigan to wrap up in, for when you don't want to get out of bed in the morning. It feels like a blanket (without being too hot), so when you're curled up on the couch, or sitting at your laptop, you feel snuggled up and warm. It's one of those pieces that you will want more than one of, because you won't want to be without it when it's in the laundry.
$116, nordstrom.com
Deal: Goodthreads Boucle Cardigan Sweater
This is a step above just swaddling yourself in a blanket all day, even though that's what we all really want to do 24/7 as it gets colder. This is the perfect "grandfather" cardigan that hits mid thigh, has a cute extended ribbed cuff, and deep pockets to keep your lip balm or snacks handy.
$42.50, amazon.com
The Upgraded Loose Flannel
Splurge: Rails Hunter Plaid Shirt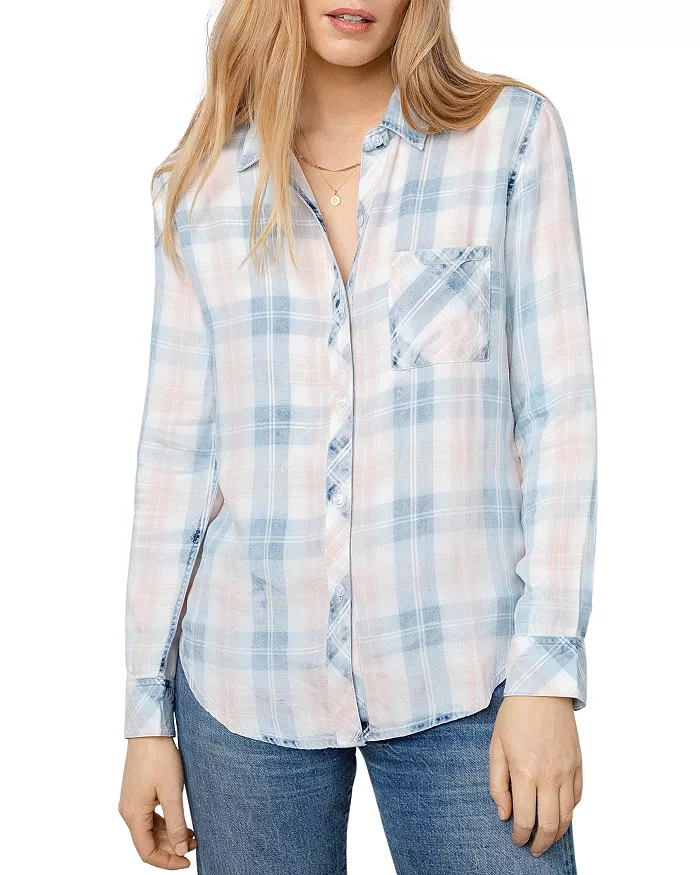 Rails is one of those brands that if you know, you know. I could be going through a rack of plaid shirts, and without even looking at the label, just from the feel of it, I could tell you which shirt was by Rails. They are so soft and lightweight, which makes them also great for layering. With lots of colors and pattern variation to choose from, the Rails plaid shirt is definitely a crowd pleaser.
$158, bloomingdales.com
Deal: American Eagle Plaid Flannel Babydoll Button Up Shirt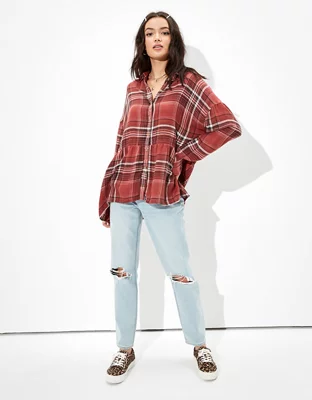 Everyone needs a reliable flannel or two for Fall and winter. If you don't like the boxy cut of your typical flannel shirt (especially while shopping in the men's section), American Eagle has a couple of awesome options that give a little extra oomph. The breezy babydoll cut of this flannel makes it drape so nicely over both pants or leggings, and the arms are still very flattering.
$49.95, ae.com
Ready to explore your style but don't know where to start? Read my take on what personal style means while living through a pandemic.